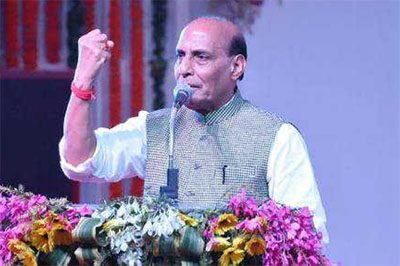 Agencies, Guwahati
Union Home Minister Rajnath Singh today said the Centre was committed to resolve all issues concerning the Bodo community of Assam. Mr Singh made the remarks while attending a tripartite talks on Bodoland issues between the All Bodo Students' Union (ABSU), Central Government and Government of Assam at New Delhi, in the presence of Assam Chief Minister Sarbananda Sonowal and others.
The talks which lasted for around 40 minutes discussed in details all long pending issues raised by ABSU for a lasting solution, official sources said here. Talking to the representatives of ABSU, Mr Singh said the Central Government is committed to equal development of all communities following the Prime Minister's mantra of Sabka Saath Sabka Vikas.
"We want equal development of all communities, including the Bodos. Our Government will take all out measures to ensure overall development of the Bodos living in Assam," Mr Singh said. The Union Home Minister said talks between ABSU, Central Government and Government of Assam will continue at official level for a permanent and early solution. Expressing satisfaction over the progress made in the talks,
Chief Minister Sonowal said the Government of Assam is working for a united and powerful Assam with an aim to ensure inclusive development for one and all. "Our Government is working relentlessly for a united and prosperous Assam ensuring development of all communities.
The Bodos are one of the most vibrant and significant communities of Assam and we are fully committed to their development," Mr Sonowal said. ABSU president Pramod Bodo said they have a long pending demand for a separate Bodoland to safeguard the art and culture and land rights of the Bodos.
Seeking permanent and early solution to their demands, the ABSU president said in future all Bodo outfits will also take part in talks with the Government of India for settlement of their demands. President of NDFB (Progressive) Gobinda Basumatary participated in the discussion. Former MPs SK Bwismuthiary and U G Brahma were also present.