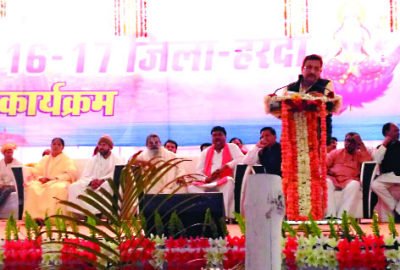 Harda : People of all the sections of the society are coming forward to protect Maa Narmada and Environment. Minister for School Education Kunwar Vijay Shah mentioned this while addressing the Jan-sanvad programme held during the 'Namami Devi Narmade' Seva Yatra at the 10th day of yatra in village Karanpura of Harda district.
He further said that all should contribute in the yatra to get themselves and society blessed. Narmada seva yatris are working for the good of next generation, he added. Kunwar Shah administered pledge to the people to make all possible efforts and to inspire others towards plantation on Narmada banks, organic farming, Beti Bachao-Beti Padhao, de-addiction and to maintain purity of Narmada River. He also announced the names of the Narmada Seva Committee of Karanpura.
Chairman State Tourism Development Corporation Tapan Bhoumik said that we have to stop releasing sewage water and insanitation on the banks of Maa Narmada. Former Minister Kamal Patel mentioned that Maa Narmada must be made pollution free. Undertake plantation on the banks of Maa Narmada, if you wish to see the prosperity of the next generation.
Mahamandaleshwar Ramdasji Maharaj and Mahant Manjudas Tyagi also expressed their views. It is informed at Jan-Sanvad that changing rooms will be constructed for women on the ghats. Beside construction of muktidhams and poojan kunds, also sewage water treatment plants will be established to stop release of sewage water in Narmada River.