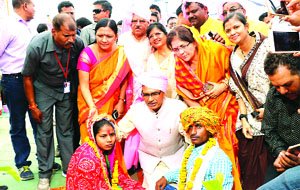 Bhopal : Chief Minister Shivraj Singh Chouhan participated in a mass marriage ceremony held under the Mukhyamantri Kanya Vivah/ Nikah Yojana at Dharmpuri of district Dhar today. Over 600 Hindu couples performed Saat Pheras with Hindu rituals amid chanting of vedic mantras and Nikah of 23 Muslim couples was performed under the same roof.
CM Chouhan mentioned that a smart phone besides Rs. 25 thousand will be given to each bride now under the Mukhyamantri Kanya Vivah/ Nikah Yojana. Chouhan further mentioned that the Ladli Laxmi Yojana was launched by him at first after he became the Chief Minister. I took resolution that I will not let girls become burden on their parents and will transform them into a blessing.
The state government is concerned for the welfare of the girls besides Ladli Laxmi yojana to their education and their marriages. He said that it has been decided that 50 percent reservation should be given to the women in recruitment of teachers.
There is already a provision of 50 percent reservation for women in local bodies and panchayats. Except Forest department, 33 percent reservation has been made for women in all the departments. Now girls are becoming constables to officers in police department. CM Chouhan lauded Dhar district for improvement in sex ratio.
Moreover, Chouhan said that fee of the student who secures over 75 percent marks in 12th examination and gets admission in I.I.T., Medical Institutes and I.I.M. like institutes will be borne by the state government. CM Chouhan stated that Narmada Seva yatra is being undertaken for environment conservation. The amount of oxygen each person takes per day to live is fulfilled by 6 -7 trees, hence we all should plant 6 to 7 trees.
He appreciated the presentation of saplings as gifts in the programme. Chouhan said that micron polythene will be banned from May 1 in the state. Furthermore, Chouhan told the district administration and public representatives to sit together and prepare a scientific action plan and strategy to prevent land erosion at Bilwamrateshwar Mandir Baint Sansthan.
Assessing the water accumulation status in Sardar Sarovar dam, Chouhan directed the officials to conduct a technical survey for construction of bridge for Baint Sansthan and towards the demand to raise the height of Bharudpura pond. He said that the state government is ready to give the permission if it is found technically viable.
Former Union Minister Vikram Verma prayed for happy married life of the newly wedded couples. MLA Kalusingh Thakur put forth a demand to develop the Baint Sansthan as a tourist place. Minister in-charge Antarsingh Arya, MP Smt. Savitri Thakur, MLAs Smt. Neena Verma and Smt. Ranjana Baghel, President Jila Panchayat Smt. Malti Mohan Patel and other Public Representatives were present in the programme.