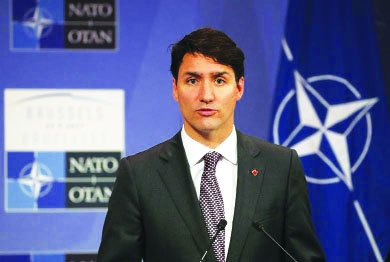 Agencies, Ottawa
Canadian Prime Minister Justin Trudeau looks set to shuffle his cabinet and trigger a new session of Parliament to help refocus a flagging agenda in the run-up to an election in late 2019, say political insiders. Trudeau's Liberals took power in November 2015 with ambitious plans but have abandoned some high-profile electoral commitments and are struggling to push others through Parliament. "Things are dragging.
We need a reboot," said one well-placed Liberal. One option is prorogation – ending the Parliamentary session and starting a new one, which allows Trudeau to formally unveil a new agenda and inject a sense of purpose in the run-up to the election. "Prorogation is most likely going to happen. The only question is whether it's in the next few months or early 2018," said another veteran Liberal.
Trudeau's challenges started in January amid questions about a New Year's vacation he took at a private island. He now faces an ethics probe. In February, he had to scrap plans to overhaul the electoral system. He has also abandoned a vow to run small budget deficits, citing the need to stimulate the economy, and critics say Ottawa botched the creation of a national infrastructure bank, another major electoral promise.
Officials fret that time is running out to meet priorities such as drafting legislation to legalize marijuana and creating a new system to assess major natural resource projects. Signs of urgency are visible. Unusually, the government is extending the sitting hours of Parliament to midnight until the legislature rises for the summer in late June.